The novel coronavirus, known as COVID-19, has reached a point where it is having an impact on a global scale and is raising concerns of it possibly turning into a pandemic. World Health officials want you to know there is no need to panic. However, it is best that you are prepared and know how to protect yourself from the virus.
We here at DewMobile, Inc. want to do our part in helping spread the word about the COVID-19 so that you can better protect you and your family. In this article, we will not explain what COVID-19 is or its symptoms since other new sources have done a great job spreading that information worldwide. If you want to learn more, please click on this link to the World Health Organization's page on the virus. 
Why is There No Need to Panic? 
If you look at the statistics of the current COVID-19 cases, it is clear that there is no need to panic. According to a study released by the Journal of the American Medical Association (JAMA for short), 81% of the COVID-19 cases are mild, 14% of the cases are moderate and only 5 % of the cases are critical. In comparison to SARS (severe acute respiratory syndrome) and MERS (Middle East respiratory syndrome) coronaviruses, COVID-19 is likely more highly transmissible but not as deadly. SARS (2003) had a 10% fatality rate, while COVID-19 so far only has a 2% fatality rate, which is 5 times less than SARS.
In reference to age, the possibility of dying is even lower. The death rate for people under 50 years old is only 0.2%.  In general, there are relatively few cases among children. The majority of people recover from this virus and the risk of dying from the virus is extremely low.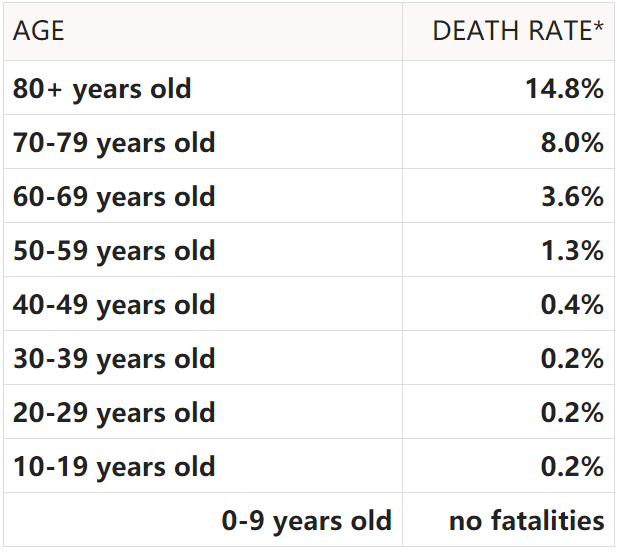 The people most at risk to COVID-19 are those who have a pre-existing condition such as a cardiovascular disease. The percentage shown in the table below does not represent the overall percentage of COVID-19 related deaths of those who a a pre-existing condition. Rather, it represents the risk of dying for a patient with a given pre-existing condition if they are infected by COVID-19.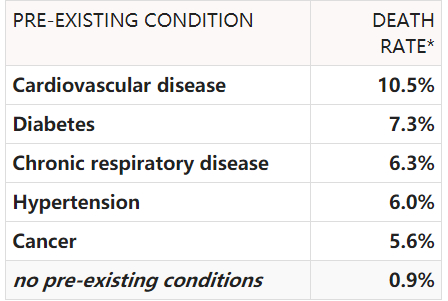 How to Prevent the Spread of COVID-19
According to the Centers for Disease Control and Prevention (CDC) and the World Health Organization,  you should use everyday preventative measures to avoid infection spread. Everyday preventative measures include and are not limited to: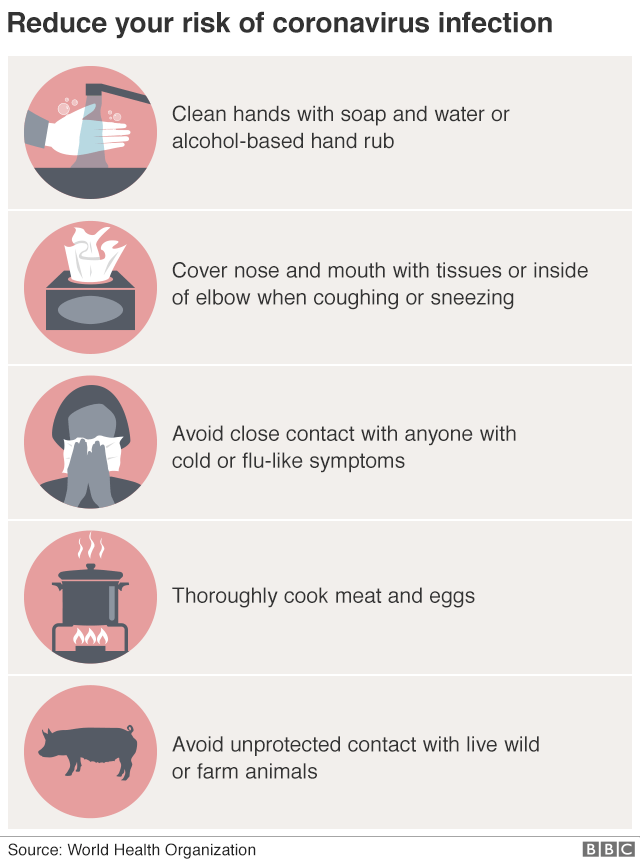 Avoid close contact with people who are sick.
Avoid touching your eyes, nose, and mouth.
Stay away from crowds.
Cover your cough or sneeze with a tissue, then throw the tissue in the trash.
Clean and disinfect frequently touched objects and surfaces using a regular household cleaning spray or wipe.
Wash your hands often with soap and water for at least 20 seconds. Especially after going to the bathroom, before eating, and after blowing your nose, coughing, or sneezing.
If soap and water are not readily available, use an alcohol-based hand sanitizer that contains at least 60% alcohol. Always wash your hands with soap and water when hands are visibly dirty or you have touched a surface that may have the fluid of other people on it.
On Wearing Masks
Please do not buy face masks if you are not sick and are not a healthcare worker. It is a common misconception that wearing a mask in public will prevent people from getting infected with COVID-19. According to the CDC and WHO, face masks should only be used by people who show symptoms of the virus to help prevent the spread of the disease to others and by those who are working providing healthcare to people who are infected. You should also learn how to properly use the face mask before wearing it. If worn improperly, the mask will do nothing to stop the spread of the infection.
Conclusion
On a final note, we want to address the stigma related to the novel coronavirus. The fear and anxiety caused by COVID-19 has lead to blatant acts of racism towards certain nationalities. We should not judge certain nationalities based on an event like this. Not everyone in that population or region have been affected by the virus. Racism hurts everyone by creating fear and anger towards normal people and draws attention away from what is truly important: stopping the spread of COVID-19.
We need to focus on what is important and not on hurting others. We must cherish others and live life to the fullest every day. Eating healthy, taking care of our planet, and sharing the love should be our main focuses right now. Let's fight this virus together!