Wearing face masks in public is becoming a global form of common courtesy. Common courtesy refers to the politeness and respectfulness that people are usually expected to show to others. By wearing a face mask whenever you are in public, you are being respectful to those around you because you are showing them that you are doing your best to help slow the spread of COVID-19. Keep reading to find out how to make your own face mask and how to properly use and clean it.
Two Simple Ways to Make a Face Mask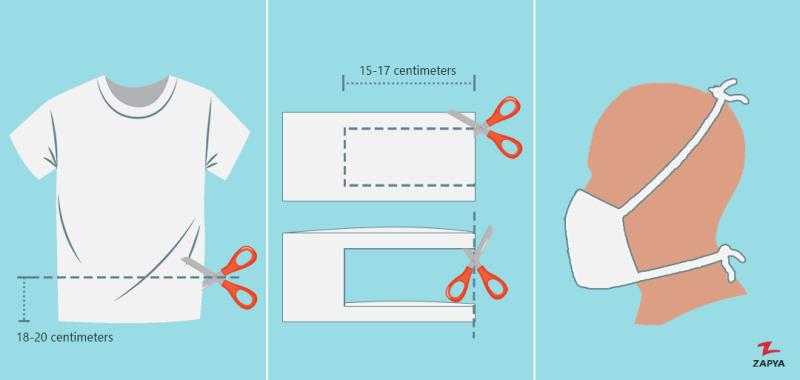 Find a clean t-shirt and a pair of scissors
Cut 18-20 centimeters from the bottom of the t-shirt
Cut out a 15-17 centimeter long rectangle from the middle of the material and then cut tie strings
Tie strings around your neck and then over the top of your head
 Bandana/Handkerchief Face Mask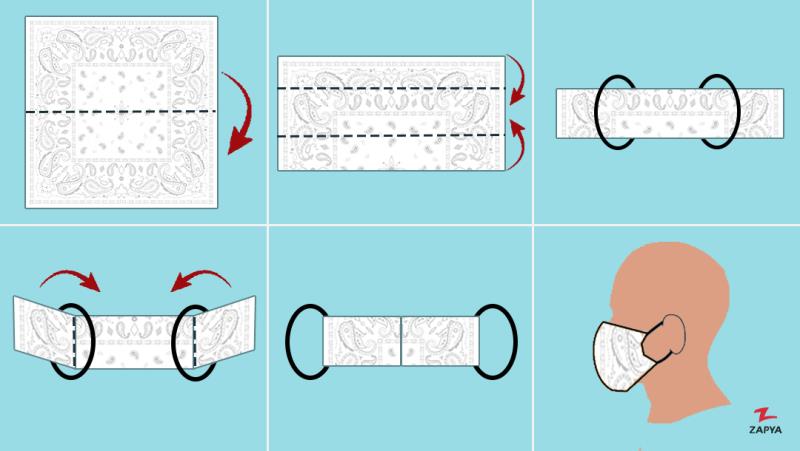 Find a handkerchief, bandana, or any large square of cotton material and two rubber bands or hair ties
Fold the material in half
Fold the top of the material down and the bottom up
Place the rubber bands or hair ties about 15cm apart from each other on the material
Fold the sides in to the middle and tuck one side into the other
Put the rubber bands or hair ties around your ears so that the material covers your nose and mouth
How to Properly Use and Clean Your Mask 
According to the World Health Organization, masks are only effective when you practice frequent hand washing. Before you put the mask on, wash your hands with soap and water or with an alcohol based hand sanitizer. Once you have the mask on, make sure that there are no gaps between your face and the mask and it does not restrict your breathing. Your mask should fit tightly and comfortably around your face.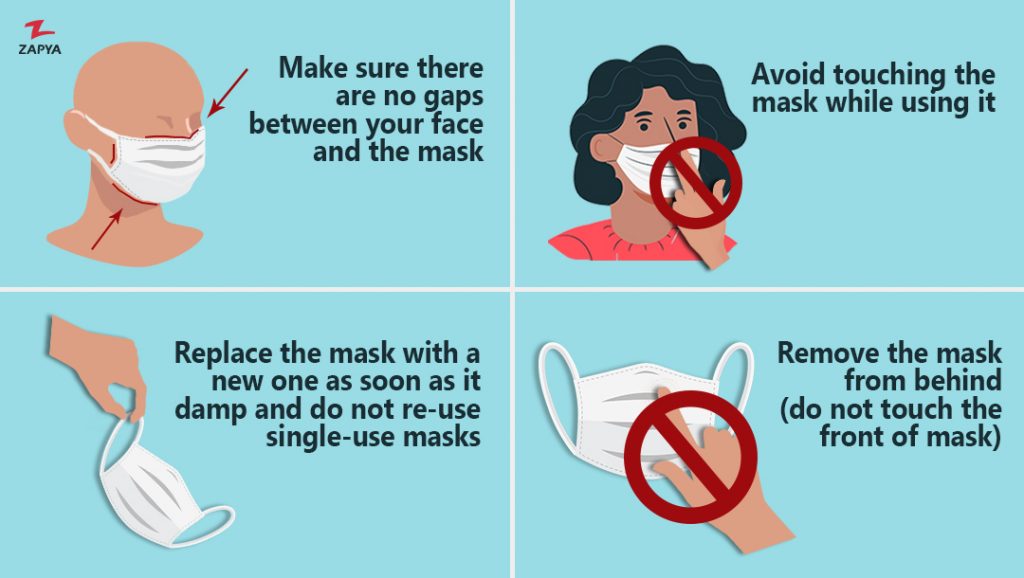 Awhile wearing the mask, make sure to avoid touching the mask. If you do, please wash your hands as soon as you can. Replace the mask as soon as it is damp and do not re-use single use masks.
When you are removing the mask, make sure to remove it using the ear loops/ties and do not grab the front of the mask. Also be careful so that you avoid touching your eyes, nose and mouth when removing it. Wash your hands immediately after removing the mask.
Health officials recommend that you should wash your cloth mask after using it. You can clean the mask by either machine-washing it with detergent, hand washing it with soap and hot water, or boiling it in a large pot for several minutes. Throw away the mask when you start noticing holes in it.