Are you annoyed by ads? Become a Zapya VIP member! We have the best deal for you: for just $0.99, you can enjoy ad-free file-sharing for 6 months! As a Zapya VIP Member, you will have access to all Zapya features without being interrupted by ads and get the exclusive VIP crown shown on your avatar.
Subscribing is very easy:
Go to the"Me" section of Zapya by clicking on Me in the bottom right corner of the home screen.
Choose "Enable VIP"located under your nickname.
Read the information, and if you agree, click on the Subscribe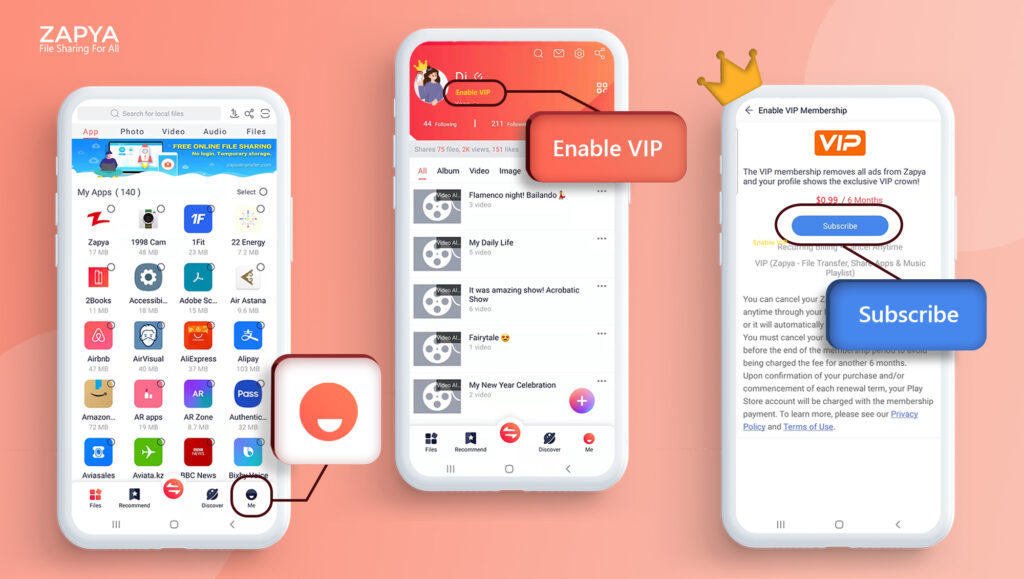 The subscription is done through Google Play so that your information is protected and the payment is secure.
If you purchase a VIP Membership, your subscription will automatically renew through Google Play at the end of the active period (6 months) unless canceled. You can view the date Google Play will renew your Zapya VIP membership on the Subscriptions page on Google Play. You can cancel your VIP membership at any time by logging into your Google Play Account and going to Subscriptions. After canceling your membership, you will continue to enjoy Zapya VIP privileges until the 6 months is up.
Become a Zapya VIP member today!
*Please note that you must cancel your membership 24 hours before the renewal date listed on Google Play to avoid charging the fee for another 6 months. All subscriptions on Google Play are renewed automatically unless you unsubscribe due to Google Play's policies.